About us
Famobra specialises in the global FMCG trade of international, high-turnover goods. Our core strength is the sourcing and distribution of fast-moving brands, hence the name Famobra, which is a contraction of 'fast-moving brands'.

Famobra has a large international network of first-class suppliers and consequently a unique product portfolio with direct access to some of the world's most sought-after brands.

From our headquarters and warehouse in Northern Germany, 30 experienced buyers and export specialists handle our extensive range of over 2,000 high-demand, fast-moving brand products and works with more than 400 customers in 50 countries all around the world. Our many years of expertise in global commerce and extensive knowledge of FMCG logistics, as well as our dedicated team who are always ready to make a great deal, makes Famobra a reliable partner for suppliers as well as customers.
B2B-Onlineshop
Order when you have time.
Global FMCG supply
Logistic know-how
AAA rating
Solid German business partner
At the beginning
40 years of exporting experience
In 1975, the Danish grocer Antoni Andresen founded the wholesaler company Calgros Andresen GmbH in the German city of Flensburg. The company was specialised in buying in bulk and distributing goods to the growing Danish-German border trade, which arose following Denmark's accession into the European Community in 1972.

Over time, Calgros Andresen GmbH became one of the major wholesalers of food, beverages and tobacco products in Northern Germany. The border trade has always been an important cornerstone of its operations, but the company also developed a global reach with export customers throughout the world.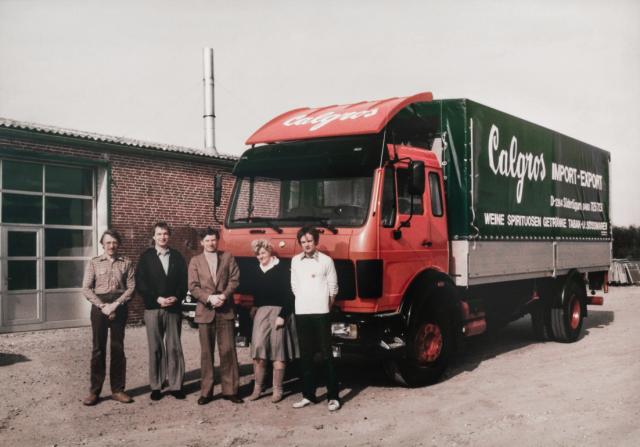 The continuous success
In 2013, Calgros Andresen GmbH was acquired by the Danish Fleggaard Group, as the company served as a logical expansion step for the group's activities. The Fleggaard Group's international orientation has resulted in natural synergies in Calgros, with an increased focus on exports and high growth as a result.
At the end of 2017, activities in Calgros' export division were moved over to a separate company, named Famobra GmbH. The split was a natural consequence of a growing strategic focus on the division's speciality: the global trade of international, high-turnover goods.
Part of a group
A solid retail and wholesale group
Famobra is part of the Fleggaard Group, an international conglomerate with a rich history that dates back to 1926. The group's activities are focused on three strategic business areas: wholesale, retail and leasing. Even though the conglomerate's subsidiaries have a global reach, it is still a family-owned business where good business sense lies at the foundation for all its activities. The group's subsidiaries have an annual turnover of roughly EUR 940 millions and employ roughly 1,750 staff, making it one of Denmark's largest family-owned groups.